Gooseneck Rolloff Trailers
$0.00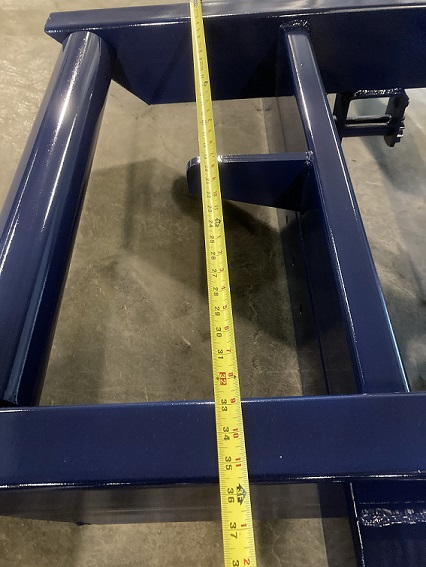 Industry Standard Rails.
At Bison trailers we believe making the customer successful is being successful. That's why when we design our trailers we were sure to make it compatible with industry standard rail containers. So when you buy the trailer from us you can purchase the containers from the vender of your choice. Count on us to make you successful.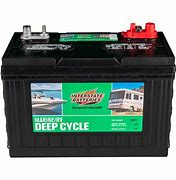 Interstate Batteries.
Bison trailers come standard with 2 Interstate SRM-31 Marine batteries. The most trusted name is batteries.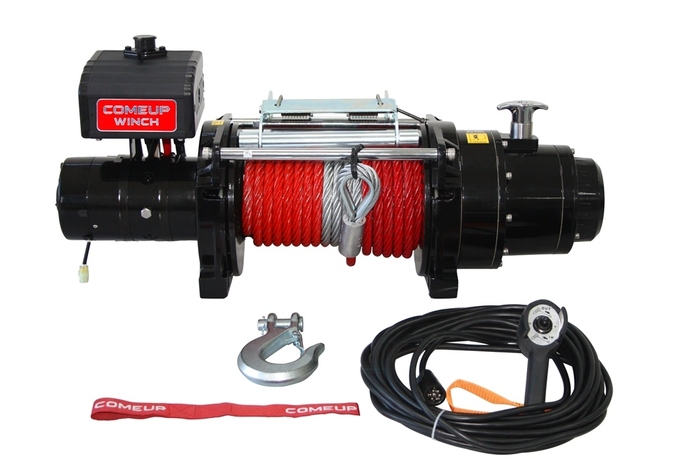 Comeup Winch 
Bison trailers come standard with a 15k Comeup purpose built winch. Comeup Industries engineered a purpose built winch specifically for these trailers that have 3 major advantages over other winches.
Grooved drum to that cable rolls up evenly.
Only 35′ of cable so that you don't loose power by having many layers of cable on the drum.
Super heavy duty clutches and brake system to hold up to the daily beatings.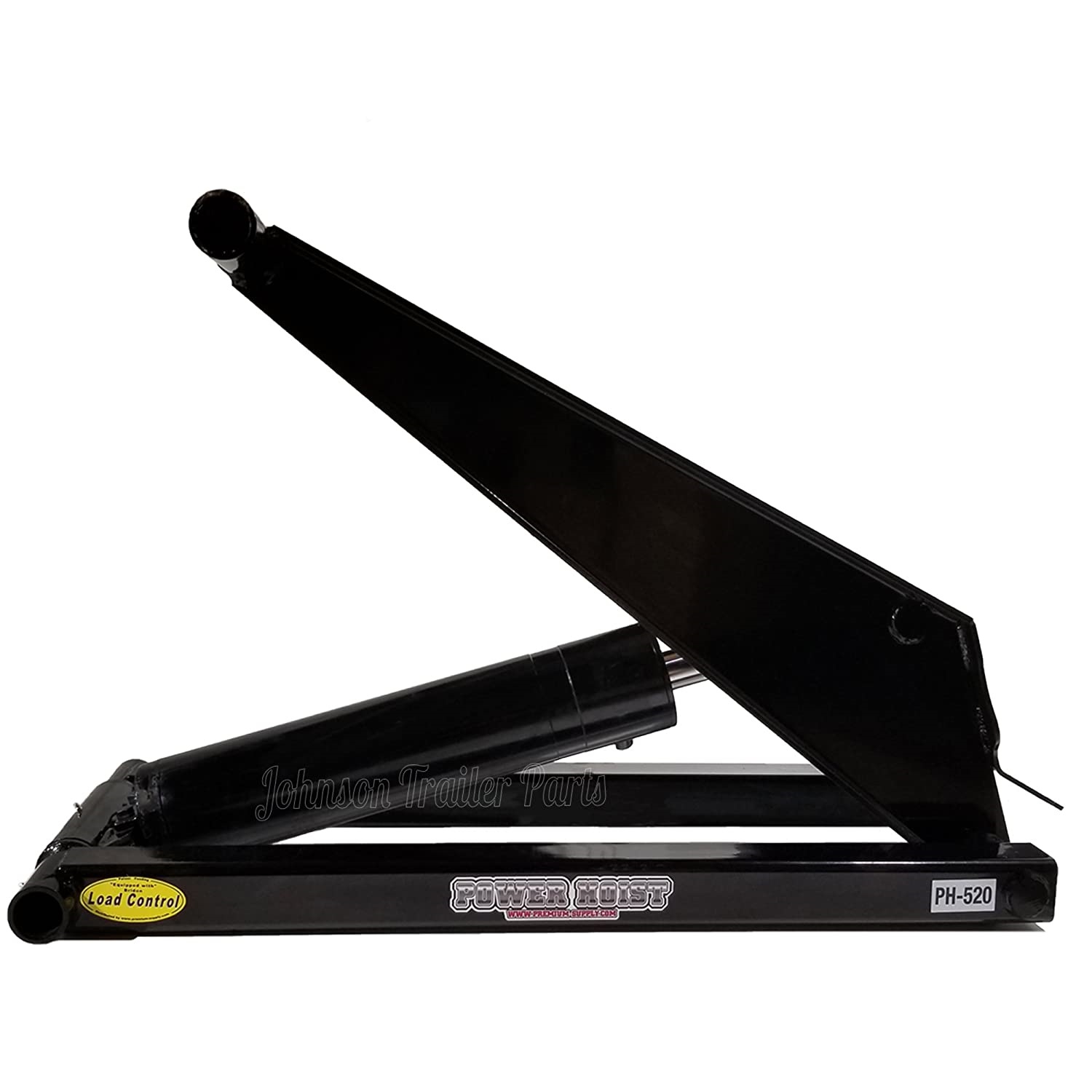 KTI Scissor Lift.
Bison trailers are powered with a proven 10 ton KTI scissor lift and power unit.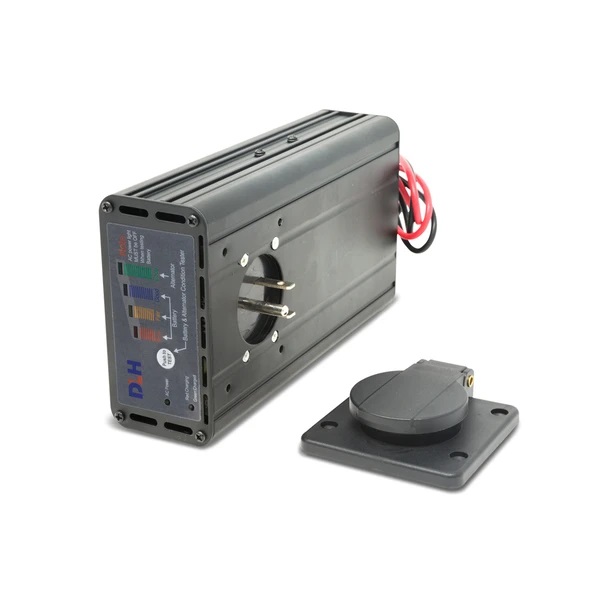 18 AMP Battery Charger.
Bison trailers are always ready to go in the morning with 18 AMP chargers that plug into your regular extension cord.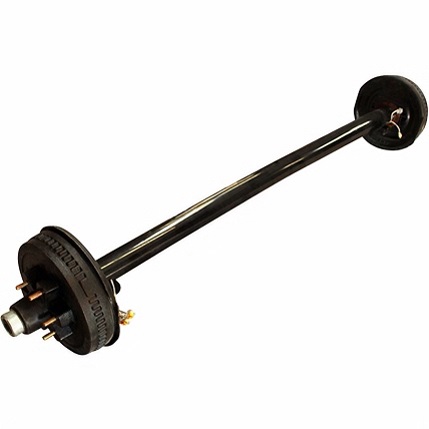 American Made Axles.
We believe American people deserve American quality. That's why every Bison trailer comes with American made axles.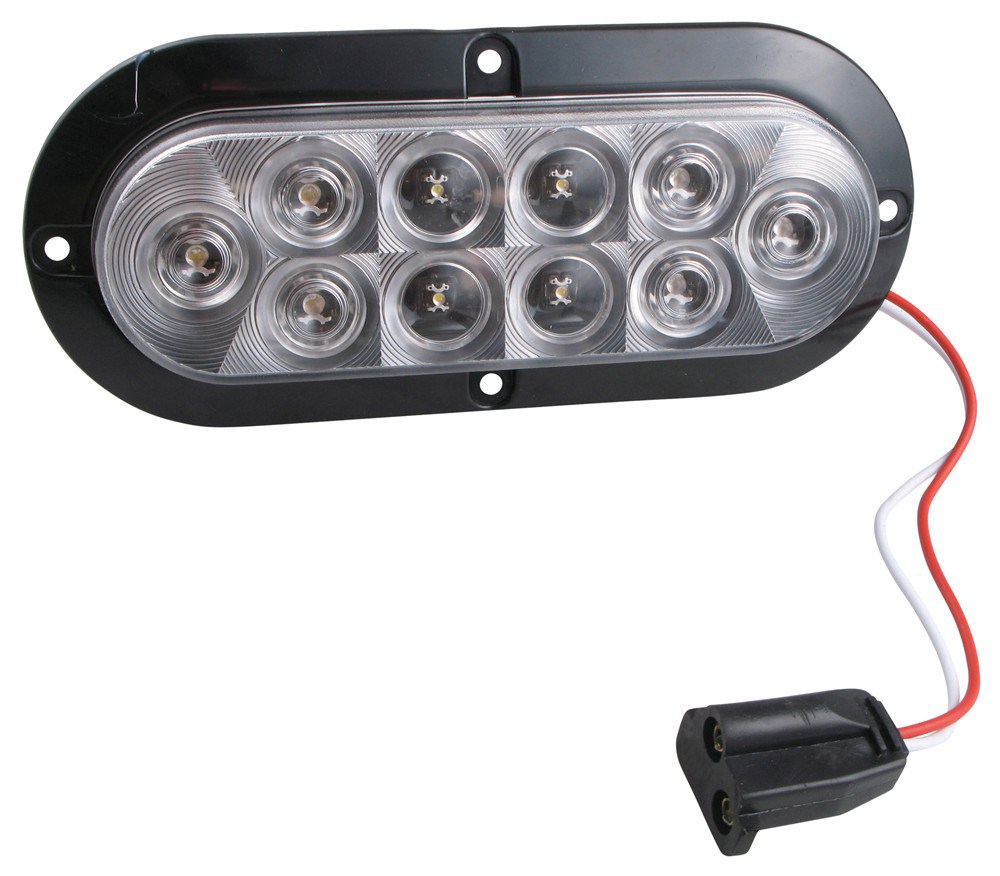 LED Lights.
LED lights are the most reliable lights on the market. That's why every Bison trailer has LED's.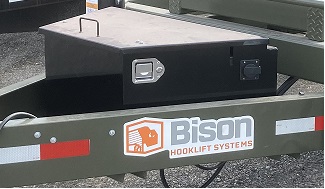 Steel Battery / Tool boxes.
Other guys cut corners by using flimsy plastic battery boxes. Every Bison trailer has the power unit, batteries, and charger in a steel box to keep it safe from weather.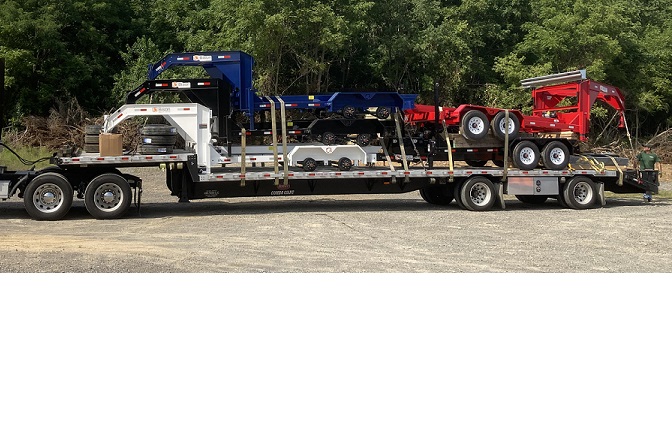 Tubing Structure.
All Bison trailers feature a industry leading box tubing frame with I-beam neck. Another haul mark of quality and example of standing out in the crowd.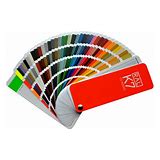 Color Matching
At Bison Hooklift every trailer is cleaned, primed and painted with Sherwin Williams paint. Another feature setting us apart from the competition.
Are you branding your business with a certain color? Color matching is no problem. We can computer match almost every color under the sun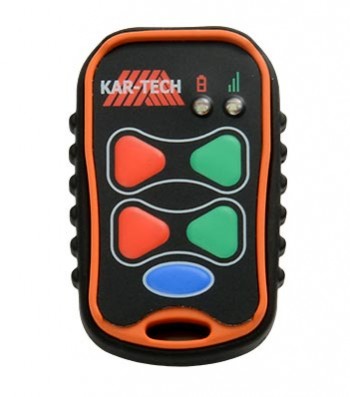 Wireless Remote 
Be able to move around your trailer freely and still be in full control with Kar-Tech's wireless remote. Up to 300′ range.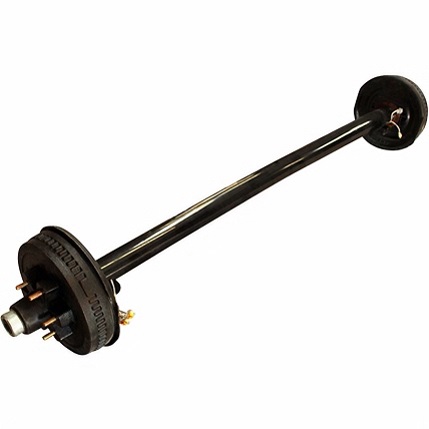 8k Axles 
Load a little more and get a little more done every day with 16k axles.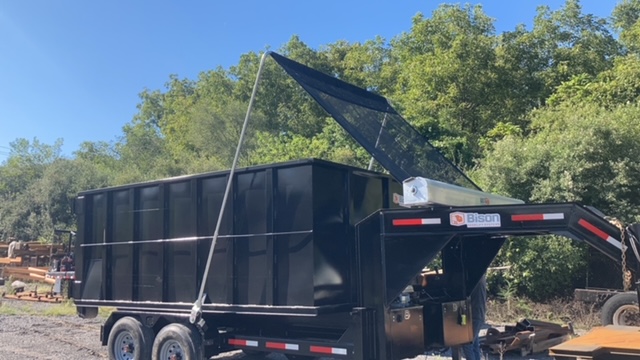 Automatic Tarp System 
This tarp system offers the flexibility to accommodate container wall heights ranging from 40″ to 60″ allowing you to cover containers from 10-20 yard.
Operates at the flip of a switch.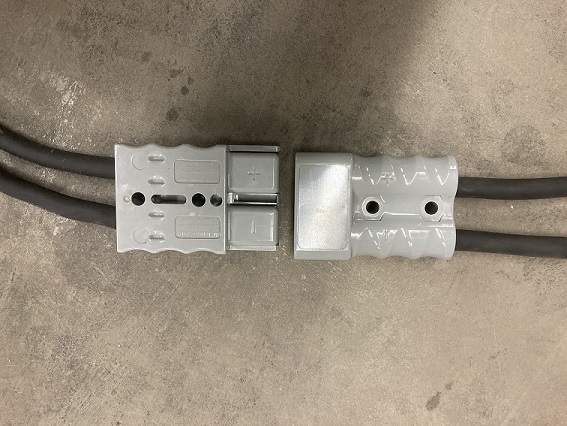 Truck Connector Kit
Connect your truck batteries to the trailer and never run your batteries dead again. Because your alternator will keep it charged and ready to go.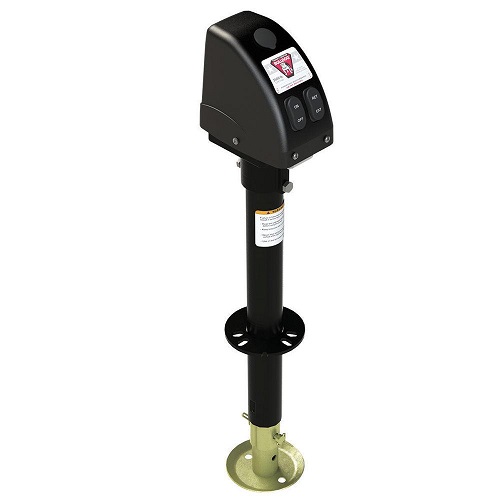 Powered Jacks 
Never crank a trailer jack again with Bison's power jacks which hook into the existing power unit seamlessly.
1.1 WARRANTY INFORMATION
1.1.1 Manufacturer's Warranty
Bison Hooklift Systems warrants that it's product to the original purchaser will be free of defect(s) for a period of one (1) year, providing that the following conditions are met and satisfied.
1.1.2 Warranty Covers
Warranty covers the main frame for 3 years. Ramps, crossmembers, railings and any non wearing items for 1 year. Normal wear items will not be replaced due to wear. These normal wear items include but are not limited to flooring, paint, brake lining(s), bearings and hoses. All auxiliary parts such as brakes, calipers, jacks, wheels, bearings, tires, suspension, lights, hydraulic dump cylinder and controls are covered by the warranty of their manufacturer.
1.1.3 Limitations The sole responsibility of Bison Hooklift Systems under this limited warranty shall be to repair and replace parts at the Bison Hooklift Systems factory, or at a Bison Hooklift Systems authorized dealer, or another location (with prior written approval by Bison Hooklift Systems). All other obligations or liabilities, including incidental or consequential damages or contingent liabilities arising out of the failure of any parts to operate properly are hereby excluded, including but not limited to any damages resulting from loss of use, inconvenience, loss of time, commercial loss, or any other type of damages general or specific, foreseen or unforeseen, unless applicable state law provides otherwise. Bison Hooklift Systems will not reimburse any claimant for any adjustment or repair of a Bison Hooklift Systems trailer, hoist or body without prior written approval by Bison Hooklift Systems. Any repairs performed at a location other than Bison Hooklift Systems, will be allotted $25.00 per hour for labor costs.
1.1.4 Warranty Void
Bison Hooklift Systems is not responsible for damage caused by accident, negligence, abuse, misapplication, or misuse of any Bison Hooklift Product or any of its component parts. Loading in excess of gross vehicle load rating stated on the certificate plate will invalidate any and all warranties. Any modifications, alterations, or repair to any product manufactured by Bison Hooklift Systems without Bison Hooklift Systems prior knowledge and written consent will void manufacturer's warranty.
1.1.5 Transportation Costs Excluded
Transportation of any trailer to and/or from your dealer, or an approved repair facility, or Bison Hooklift Systems factory shall be the responsibility of the trailer owner Bison Hooklift Systems shall not be held responsible for any such costs.
1.1.6 Disclaimers
This warranty is expressly given in lieu of all other warranties and representations. Bison Hooklift Systems makes no representation or warranty of any kind, express or implied, with respect to Bison Hooklift Systems weather as to merchantability, fitness for a particular purpose or any other matter. No one, including an authorized Bison Hooklift Systems dealer is authorized to make further or additional warranties on behalf of Bison Hooklift Systems.
1.1.7 Dealer Responsibilities
The dealer is responsible for submitting the manufacturer any claim you wish to make under this Limited Warranty.
1.1.8 Required Warranty Claim Procedure
1. Within five (5) days after discovering a problem with your Bison Hooklift Systems product, return your product for inspection to your Bison Hooklift Systems dealer where you bought your product.
2. If your dealer cannot repair the problem free of charge and you want to file a claim under this warranty, your local dealer must send to Bison Hooklift Systems by registered letter or fax a warranty claim form, together with all the required information within ten (10) days of the discovery of your defect.
3. Bison Hooklift Systems will acknowledge such receipt of a claim by registered letter or fax to the dealer and the claimant. Bison Hooklift Systems will respond as soon as possible, being later than thirty (30) days after receipt of the claim.
4. Any defected parts must be sent by prepaid freight to Bison Hooklift Systems, in order to qualify the claimant for replacement or reimbursement under this limited warranty. Any defective parts must be returned to Bison Hooklift Systems WITHIN THIRTY (30) DAYS OF THE DATE OF APPROVAL TO QUALIFY FOR REIMBURSEMENT.
5. Bison Hooklift Systems reserves the right to not pay unreasonable cost for replacement or repair of defects to a Bison Hooklift Systems product, and may at it's discretion, establish reasonable reimbursement or parts for any authorized work performed under the terms of this Limited Warranty.
6. When required, photos of defective part(s), or the actual part(s), may have to accompany the warranty approval before payment can or will be made.
7. Bison Hooklift Systems HERE MAKES NO OTHER EXPRESS OR IMPLIED WARRANTIES AND THERE ARE NO OTHER WARRANTIES WHICH EXTEND BEYOND THOSE DESCRIBED HEREIN.